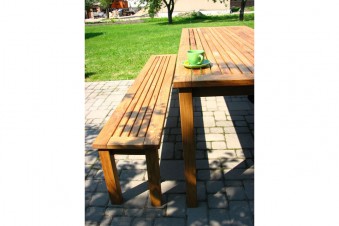 Substantial dinner, possibly serving a glass of wine, cannot be imagined without a dining table of adequate dimensions. A good dining table is required not only to let the family feel comfortable but also to make receiving of your guests more comfortable and beautiful. Conversations are always lively and there is a desire to stay longer, sitting around a pleasant, comfortable and neatly decorated table.
The table made of natural wood will be more solid and serve longer, which in its turn bring a breath of ecology at your home and it will also be a contribution for the future generations.
The dining table made of oak by VitWine for six persons and the matching benches are made in the pattern of boards and suitable both for outdoor and indoor premises.
Komplektācija: The D6 table is provided for 6 persons. There is a table and two benches in the set.
Materiāli: natural oak treated with linseed oil
Izmēri: 120 x 80 x 75 cm
The dining tables of the product line by the VitWine design are made in the period of 3 – 5 days. The price does not include the delivery costs, VAT and customs fees, if the goods are delivered outside the EU. The delivery costs are calculated depending on dimensions of the order and the delivery address.
Recently VitWine manufactured our first wine cabinet. We are glad that we can continue collecting wines properly! We deserve it for a long time!
Keith and John Wilkinson, England
The eco-friendly wine cabinet fits in the interior of my apartment surprisingly well. In addition I have also purchased a small wine rack to keep my bottles of wine when my guests are coming. I am very much satisfied with the functionality of the wine furniture by VitWine!
Bernard Kauföld, Germany
Thank you very much for the creative solution in the interior of our wine cellar! VitWine really works in a very professional manner with an individual approach for every customer.
Peteris Dambis, restaurant owner, Latvia