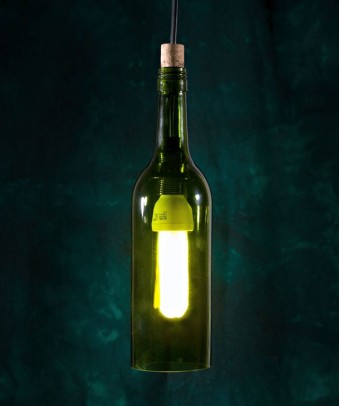 This lamp, which will find its home with the like-minded people, was developed, making our wine cabinets and thinking of the wine culture and the divine drink of wine day after day.
The lamp you have ordered can differ from the one seen in the pictures both by color and shape, since every lamp is developed as an individual piece of art inspired by its customer – the wine lover.
Materiāli: A bottle of wine (of various designs), a 2 strand electrical wire, the economy low energy bulb 15W
The price does not include the delivery costs, VAT and customs fees, if the goods are delivered outside the EU. The delivery costs are calculated depending on dimensions of the order and the delivery address.
The eco-friendly wine cabinet fits in the interior of my apartment surprisingly well. In addition I have also purchased a small wine rack to keep my bottles of wine when my guests are coming. I am very much satisfied with the functionality of the wine furniture by VitWine!
Bernard Kauföld, Germany
Recently VitWine manufactured our first wine cabinet. We are glad that we can continue collecting wines properly! We deserve it for a long time!
Keith and John Wilkinson, England
Thank you very much for the creative solution in the interior of our wine cellar! VitWine really works in a very professional manner with an individual approach for every customer.
Peteris Dambis, restaurant owner, Latvia