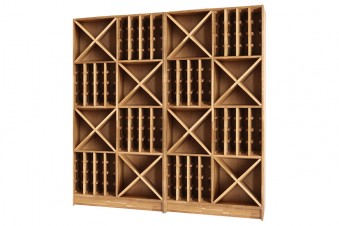 The big xl 8 wine cabinet made of natural oak can put in more than 200 bottles of wine. The design of the xl 8 wine cabinet is developed by arranging the diamond shaped and vertical type racks in the rhythm of chess, creating an explicitly decorative solution for storing wine.
Materiāli: natural oak treated with linseed oil
Ietilpība: 224 bottles of wine of standard dimensions
Izmēri: 190 x 192 x 30 cm
The wine cabinets of the product line by the VitWine design are made in the period of 3 – 5 days. The price does not include the delivery costs, VAT and customs fees, if the goods are delivered outside the EU. The delivery costs are calculated depending on dimensions of the order and the delivery address.
Recently VitWine manufactured our first wine cabinet. We are glad that we can continue collecting wines properly! We deserve it for a long time!
Keith and John Wilkinson, England
Thank you very much for the creative solution in the interior of our wine cellar! VitWine really works in a very professional manner with an individual approach for every customer.
Peteris Dambis, restaurant owner, Latvia
The eco-friendly wine cabinet fits in the interior of my apartment surprisingly well. In addition I have also purchased a small wine rack to keep my bottles of wine when my guests are coming. I am very much satisfied with the functionality of the wine furniture by VitWine!
Bernard Kauföld, Germany