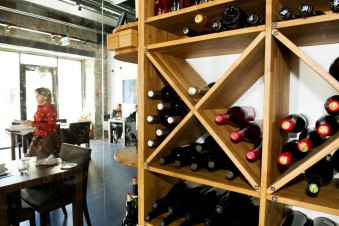 In the premises of former art gallery in Tallinn, Estonia there was developing ​​a wine restaurant. Special wine furniture for restaurant owners ordered directly from us, because VitWine is the only specialized wine furniture manufacturer in the Baltic States. For the new restaurant Alter Ego VitWine made ​​a number of built-in wine cabinets, taking into account special needs of this restaurant, calculating the quantity of wine cabinets and racks for wine.
Alter Ego is now one of the most popular wine restaurants in Tallinn, which is inspired by Spanish culture, offers exquisite Mediterranean menu, and the best South wines in the front of visitors are exposed in nice VitWine wine cabinets and shelves.
Thank you very much for the creative solution in the interior of our wine cellar! VitWine really works in a very professional manner with an individual approach for every customer.
Peteris Dambis, restaurant owner, Latvia
Recently VitWine manufactured our first wine cabinet. We are glad that we can continue collecting wines properly! We deserve it for a long time!
Keith and John Wilkinson, England
The eco-friendly wine cabinet fits in the interior of my apartment surprisingly well. In addition I have also purchased a small wine rack to keep my bottles of wine when my guests are coming. I am very much satisfied with the functionality of the wine furniture by VitWine!
Bernard Kauföld, Germany