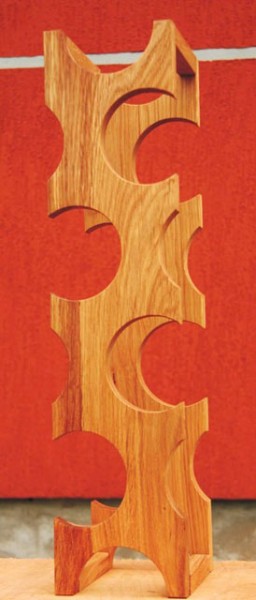 The patented design wine rack by VitWine!
The original P1 wine rack by VitWine made of eco-friendly materials enables you to exhibit several bottles of wine planned for early consumption or saved for some special occasions. It can be used on the table and on the floor or placed in a niche. As your collection of wine grows, it is possible to extend this rack, adding some more racks of the same design both vertically and upwards, and horizontally.
Purchasing of this rack is not only an investment in development of your home wine traditions, but also the investment in a product of unique design – the P1 wine rack made by VitWine is patented in the Patent Office of the Republic of Latvia as an original sample of design (Registration No. D15368).
The original design wine rack by VitWine will be a great gift for all admirers of wine – soon to be offered gift-wrapped!
Materiāli: natural oak treated with linseed oil
Ietilpība: 5 bottles of wine of standard dimensions
Izmēri: 60 x 14 x 17 cm
The wine racks of the product line by the VitWine design are made in the period of 3 – 5 days. The price does not include the delivery costs, VAT and customs fees, if the goods are delivered outside the EU. The delivery costs are calculated depending on dimensions of the order and the delivery address.
The eco-friendly wine cabinet fits in the interior of my apartment surprisingly well. In addition I have also purchased a small wine rack to keep my bottles of wine when my guests are coming. I am very much satisfied with the functionality of the wine furniture by VitWine!
Bernard Kauföld, Germany
Thank you very much for the creative solution in the interior of our wine cellar! VitWine really works in a very professional manner with an individual approach for every customer.
Peteris Dambis, restaurant owner, Latvia
Recently VitWine manufactured our first wine cabinet. We are glad that we can continue collecting wines properly! We deserve it for a long time!
Keith and John Wilkinson, England